Workplaces today require more collaboration tools than ever, and there are plenty of options out there to help you and your team collaborate successfully.
Sorting through them can be complicated. In fact, sometimes it seems like there are too many collaboration tools available. It can be hard to keep up with all the latest websites and apps.
So I don't blame you if you have know idea what people are talking about when they mention Fleep, Swipe, or Slack. It can start to sound like baby talk. In this list, you'll get acquainted with the most useful enterprise collaboration tools for your team and help you choose the right ones.

Having a great project management system is important for team collaboration and keeping your projects on track. It can provide a central place for your documents, team calendars and more powerful tools will help you with budgeting, estimating time and measuring workloads. Here are a few suggestions to explore.

When it comes to project management software, Workzone is the best of both worlds: it's a powerful program packed full with all the functions you could ever need AND it's intuitive and easy to use. It seems like a paradox, it doesn't make sense but we've somehow made it work just like french fries dipped in ice cream. And if you're looking to scale quickly, Workzone was named one of the top apps for rapidly growing startups by GetApp. It's a good idea to start with a tool like Workzone and have your processes in place so you're ready to expand quickly when your business reaches that point.
Explore Workzone Plans and Pricing
Trello
If project management software seems too complicated for you and your team, you might want to try Trello's suite of collaboration tools. It's basically a digital noteboard that anyone on your team can access from any device. You can create a new "board" for each project, and the "cards" with tasks can be dragged from list to list as they reach different stages of completion. If Trello doesn't quite cut it for you, check out this list of alternatives.
Pricing: Free to $20.83/user/month
Asana
Asana has good collaboration tools for small teams. It won't overwhelm you with a barrage of advanced tools and features, just offering the basics you need, like assigning tasks, creating calendars, and setting priorities, in a beautifully designed package. But as your business grows, you may need to look for something a little more powerful, like the next item on this list.
Pricing: Free to $9.99/user/month
Wunderlist
There's a reason Wunderlist is the most popular to-do list app out there today: it provides everything you want from it. These aren't the lists you quickly jot in your notes app, in an email, or on the back of a receipt. In Wunderlist you can share your list with your team, assign tasks and subtasks to certain people, upload files, set due dates and much much more. It truly is a wunder.
Pricing: Free to $4.99/user/month
TickTick
TickTick is similar to Wunderlist, but it offers a few interesting features that its competitor does not, like location reminders, integration with third party calendars, and multiple reminders. My favorite of these features is voice input, that's right, you can add tasks to list just by speaking into your phone. TickTick even offers Siri integration, so you can add items without even opening the app!
Pricing: Free to $27.99/user/year

Staying connected is important even for those teams that are local. There's always someone on the road or a vendor, client or contractor that you need to speak with. Have a conversation or type away, these apps will let you do either. When talking about collaboration tools, you must include a section on communication.
Skype
I'm going to guess you already know what Skype is. It's how you keep in touch with your parents when you move overseas and the lifeblood of many a long distance relationship. It's also extremely useful in the workplace. There are a lot of video conferencing apps on the market, but Skype has the advantage of being familiar and so not needing extra time to set up and learn.
Pricing: Free to $5.50/user/month
Appear.In
This is the easiest video conferencing channel to use. You can customize and claim your own "room" to host all of your meetings in. Appear.in is definitely for the times we live in now, there are no dial-in options (but you can have audio only). There are no confusing pound signs or stars to hit with awkward music either.
Pricing: Free and Paid $9.99/mo
Slack
Slack is the golden standard of instant messengers. The chances are your company already uses it, or you've at least heard of it, or maybe you've been hiding under a never-ending pile of emails. Basically, Slack offers a centralized and searchable way for your team to communicate and share files that means you won't need to log into your Gmail account during work hours.
Not interested in Slack? Take a look at this list of Slack alternatives. 
Pricing: Free to $15/user/month
Google Hangouts
If you're looking for a messaging solution and your company already works with Google apps, then Google Hangouts is the obvious option. Not only does it offer text, audio, and video messaging comparable to the other choices out there, it also integrates seamlessly with Google Docs, Slides, Sheets, Calendar, YouTube, and more.
Pricing: Free to $10/user/month
Fleep
Fleep is another great messaging service that aims to make email obsolete. It integrates with Google Hangouts and email, so you can even use the app to contact people who don't have it themselves. It also has the cool feature of allowing you to pin important messages to the side of a conversation.
Pricing: Free to customized pricing
Bitrix 24
Bitrix offers more than your traditional messaging app. Not only does it have searchable history, video chat, and all the usual features, it also offers screen sharing, photo galleries, and calendars. It's basically a social network for your team. I can't wait to see what Bitrix 25 has in store for us.
Pricing: Free to $199/month

­
Workers depend on messages more than ever before. Having one place to jot down important points or to brainstorm ideas helps capture the most important ideas. Roll out one of these programs to your team and then create work accounts to share with each team member.
Evernote
When it comes to note-taking, Evernote is king. It's more flexible and has more features than any of its competitors. Here's just a few of the cool things you can do with it: scan business cards, search for words in image files, paste to Evernote without having to navigate away from other apps, video notes, there's even a way to use Evernote as an email inbox. To tell you the truth, I'm not sure if there's anything Evernote can't do.
For more options, here are several Evernote alternatives. 
Pricing: Free to $89.99/year
Dropbox Paper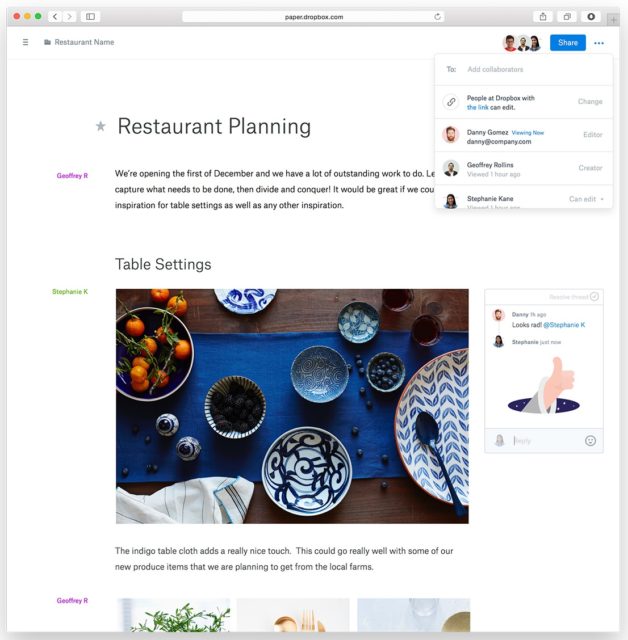 Is there anyone left on this planet who doesn't use Dropbox? My poetry group even uses it to share our poems with each other. Having conquered the file hosting game, Dropbox is now moving into the note-taking ring. And don't let the super clean and minimalistic design fool you, Paper has more features than you'd expect, including image editing, real-time comments and editing, and obviously perfect integration with Dropbox.
Pricing: Included with your Dropbox account (Free to $20/user/month)
Google Keep
Ever wanted a note-taking app that syncs with your Google apps? Here it is. Google Keep doesn't have all the functions of Evernote, but if you just want to jot a few notes and then access them on another device, it's got you covered. And it does have one cool feature that I have to mention: transcribing text from images. Yep, you can upload a photo and have Keep grab the words from it for you!
Pricing: Free
INKredible
If you're one of those people who prefer writing by hand to typing, or if you have an idea you want to quickly note down which involves a visual component, INKredible is the answer to your prayers. INKredible allows you to write or draw on your tablet just like you would a piece of paper, but unlike a piece of paper, you can immediately email them as a PDF or PNG file.
Pricing: Free
Notejoy
If you're into a note-taking application designed for teams, Notejoy is a nifty option that provides the real-time collaboration and discussion across desktop, mobile, and web. It's a lot like an Evernote alternative that's been built with more of a focus on teams, so you can easily create libraries that are shared and synced with other members of your team.
Pricing: Free to $10/user/month
­
"You forgot the attachment." No one likes to forget the attachment, but we all do it. For editing reports, RFPs or new copy, online document and word processors facilitate better comments and revisions.  It immediately improves your team collaboration because there's no extra emails and no attachments.
Google Docs/Sheets
If you're reading this list, I'd be surprised if you haven't used Google Docs today. I really don't have to explain it. That's how omnipresent it is. But there is a slight chance that you don't know about Google Slides. Basically, what Google Docs is to Word, Slides is to Excel. If you use spreadsheets, you should be using it.
Pricing: Free
Zoho Docs
It's amazing how many apps Zoho has to offer. Seriously, it's leaving Google and Microsoft in the dust. We're talking email, project management, accounting, inventory, bug tracking, and of course Docs. Zoho docs includes three apps: Writer, Sheet, and Show. They each do what you'd expect from their names. And they do it to a level comparable to any of the competition.
Pricing: Free to $8/user/month
ONLYOFFICE
ONLYOFFICE doesn't offer quite as many services as Zoho, but what it does do is offer them all within the same app, which is nice. And thanks to some nifty design, all the different features are easy to access while also being tucked away, so the tools you don't use won't be all up in your face. In terms of document management, it's right up there with Google and Microsoft with real-time collaborative editing, version history, and everything else you'd expect.
Pricing: Free to $5/user/month
Microsoft Office Online
If you really don't want to deal with transitioning away from Word and Excel but you need the flexibility of a cloud-based system, then Microsoft Office Online would like a moment of your time. It's exactly what the name leads you to believe: an online version of the Microsoft Office Suite. It doesn't quite have all the functions as the desktop version, but it is fully integrated with it, so you can transition between the two as much as you like.
Pricing: Free
GoVisually
I think we can all agree that comments and track changes are pretty much the most useful collaborative feature of any word processing program. But what do you do if your team works primarily with visual documents rather than text based ones? You go with GoVisually. This app allows you to place annotations or comments anywhere on an image file, using elliptical, lasso, or rectangular tools. And each users additions appear on a different layer, so it's easy to navigate between them.
Pricing: $12-$49/month

Forget the typical presentation and give one of these a try. It will improve the "normal" presentation and allow your whole team to collaborate and chime on the big presentation. Again, no more crazy attachments that take up all the free inbox space.
For more alternatives to PowerPoint, try these options in addition to the ones listed below.
Prezi
I love pretty much anything that can be described as "non-linear." That's why Prezi is my favorite presentation tool. Unlike the traditional PowerPoint slideshow where you click forward from the first slide all the way to the end, Prezi can take you in all different directions. Where there's a fork in the road, you can choose the path less travelled.
Pricing: $50/user/month
Google Slides
If you use Gmail for email, Google Docs for word processing, and Google Sheets for spreadsheets, then you might as well use Google Slides for presentations. It integrates perfectly with all the other Google apps and offers the real-time collaboration and intuitive interface you've become so familiar with.
Pricing: Free
Keynote for iCloud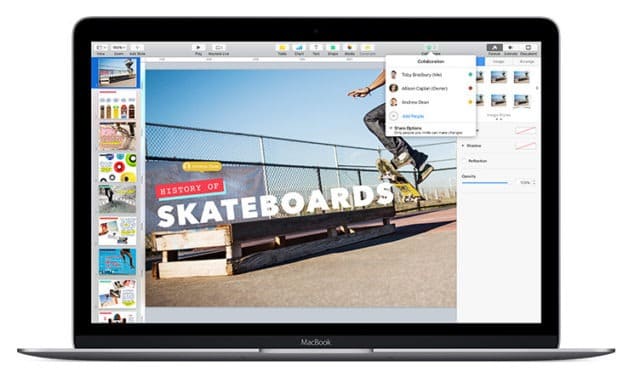 I'm one of those people who will always choose Apple over Microsoft. It's just how I was brought up. So if I need to make a slideshow, I'm not going to use PowerPoint, I'm going to use the Apple equivalent. It doesn't hurt that Keynote is fully PowerPoint integrated and the online version can be used no matter which operating system you're running.
Pricing: Free
Sway
No, PowerPoint isn't on this list of presentation tools. You know why? Because Microsoft themselves have a better option: Sway. It does everything PowerPoint can, but with clean beautiful design, a much more intuitive interface, auto-saving, and it's free and web-based. Talk about an upgrade!
Pricing: Free
Swipe
If you're often presenting your slideshow online, then Swipe is worth taking a look at. It's simple to use and you can drag and drop pretty much any type of file into your presentation. But the most exciting feature is the ability to insert polls into your slides, allowing you to gather live feedback from your audience, no matter where in the world they are.
Pricing: Free to $36/user/month

Creating visuals is vital to the success of any marketing or product creation, and these products help teams collaborate in real time. Mock up ideas, give feedback or create assets for your deliverables.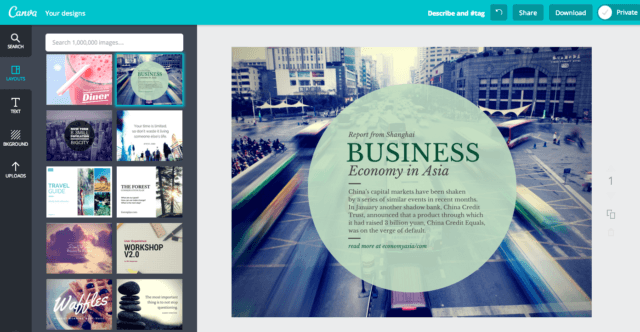 Marvelously easy layouts for your social media posts, a flyer, a presentation and more. You can build it quickly with their pre-fabbed templates or pick your own parts to design online. It's simpler than Photoshop and works well for content marketing teams. Multiple members can use it and share.
Pricing: Free to $12.95/user/month
InVision
This is one of the fastest design programs that lets teams and collaborators proof and edit fast. It hides or highlights comments and helps designers capture changes. Prototyping and interface development is simple with InVision.
Pricing: Free-$99/month
Conclusion
Now that you're done reading this list, hopefully some of the baby talk makes more sense to you. Maybe you've even been introduced to a new app that seems like it offers just the functions you've been looking for.