Let's be honest about your presentations. You need a PowerPoint alternative.

Let's be honest about how dreadful it is to see overcrowded slides.
Honest about how people seem to think using PowerPoint is an excuse to be boring and vanilla.
Honest about how it's a crutch.
Let's be honest about how simply outdated it is.
It's so horrible that "Death by PowerPoint" is a certifiable cultural phenomenon.

You need something different, a PowerPoint alternative to blast past your old ways.
It's time to spruce up the standard business presentation and these tools will help you do it.
1. Canva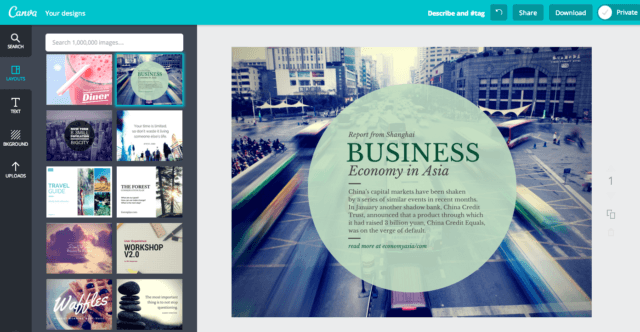 If you're already in love with Canva for all things online photo editing, you'll find it easy to fall in love with Canva Presentations. It's one of the most visually stunning options on this list of PowerPoint alternatives.
There's loads of free design options and a few inexpensive ones too, but you really can get the full Canva Presentations experience entirely for free.
Pricing: Free!
2. Emaze
Here's what makes Emaze different: the fact that the back end of an Emaze presentation is built with HTML5 means it's an ultra-reliable slideshow option for those who rely on mobile devices and need to make sure their presentations look good while doing it.
But that doesn't mean you need to know anything about HTML5. Don't sweat it—Emaze does all that stuff in the background while you use their easy-to-use interface in the foreground.
Pricing: There's a free option! You can also upgrade to a Pro plan for $10/month or a Business plan for $39/month.
3. Focusky
The specialty of Focusky? HTML5 presentations and animation-based presentations backed by Flash. Their free vector library (more than 5,000 vectors!) makes creating animations easy. Way better than in PowerPoint!

Pricing: Free, Standard ($9.99/month), Professional ($99/month), or Enterprise ($399).
4. Google Slides
Another one of my favorites, Google Slides makes collaborating on presentations incredibly easy.
With real-time collaboration, an intuitive interface, and easy integration with all things Google, it's exactly what you'd expect from a Google web app. Here's to an easy-to-use (and share-able!) alternative.

Pricing: Free!
5. Haiku Deck
A haiku about Haiku Deck:
Pretty visuals
But less customization
Still better than Pow……erpoint.
(Can we pretend it's okay to end a haiku with a 7-syllable line?)
Oodles and oodles of stock photos! If you see a slideshow with big, bold text and lots of colorful stock photos, you're probably looking at a Haiku Deck. Only con? It's just not as customizable as other alternatives on this list.
Pricing: The Pro plan costs $9.99/month while the Bulk plan starts at $499/year.
6. Keynote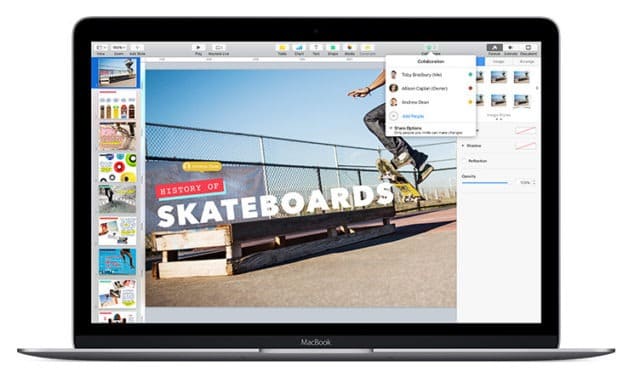 Apple geeks in the house say Heeeey! Hoooo!
Keynote is Apple's PowerPoint alternative, originally part of the iWork suite for Macs. But imagine my surprise when I found out you can use Keynote entirely for free through your iCloud account online.
Cons? None. Just kidding. Some people don't like that it's not widely used and switching a Keynote presentation over to PowerPoint doesn't usually go well. Pros? Everything else.
Pricing: Free!
Project management software can upgrade your presentations. Check out our list of the Top Monday.com Alternatives!
7. Kineticast
Salespeople, this one's for you. Especially you B2B salespeople.
It ain't the prettiest thing in the world, but that's because it doesn't need to be. Kineticast is for salespeople who care about results, stats, and presenting their content more than fiddling with PowerPoint menus.

You can change your message depending on who you're selling to, but other than that, you're locked into a pretty standard template and style. Salespeople rejoice. You don't have to be makeshift designers, but can still deliver a professional and compelling presentation to your top prospects. A top choice for those serious about finding a real, workable alternative to PowerPoint.

Pricing: Plus plan: $24/month; Preferred plan: $39/month; Premium plan: $59/month.
8. PowToon
If you like videos—if you like animation—PowToon's here to save the day.
You know those fun animated videos you sometimes see for product demos? Or those little animations that make understanding complicated ideas a lot more fun? PowToon's probably how they did it. If your content is more dynamic than text and is all about explaining things through animation, PowToon's for you.
Pricing: There's a basic Free plan; there's also Pro and Business plans at $89/month and $197/month, respectively.
9. Prezi
Prezi: one of my personal favorites and the first PowerPoint alternative to prove (to me at least) that presentations don't have to be lethally boring.
I love it for its non-linear presentation style, but its inability to support anything additional might be a turn-off for some people. Biggest pro? Simply beautiful, chock-full of brilliant and visually appealing templates. Biggest con? Not totally customizable.
Pricing: There's a free plan; there's also Enjoy, Pro, and Pro Plus plans at $4.92/month, $13.25/month, and $20/month, respectively. Businesses can save with volume-based pricing.
10. SlideCamp
If you want your presentations professional, but not too flashy, then a SlideCamp slide library may just be your thing.
Easily build up business presentations by searching for the slides you need, then open them up straight in PowerPoint. No complicated software. No new concepts to get your head round.
They've got sleek designs which can be edited so ridiculously easily in PowerPoint or Excel, that you'll wonder why you ever found presentations time consuming.
Pricing: Free Trial, $69 Lifetime access, and deals for team accounts
11. Slidebean
If you're in a pinch and don't have time for all the bells and whistles (like animation), Slidebean is your solution.
It ain't fancy, but it gets the job done and it's reliable to boot. If you're looking for top-notch visuals, you'll probably want to check out a different alternative. But if you're looking to focus on the bare bones of a slideshow and put content and accessibility front and center? Slidebean's got your back.
Pricing: Individual plan: $49/month; Teams plan: $99/month for 5 users; Corporate plan available for bigger companies.
12. SlideDog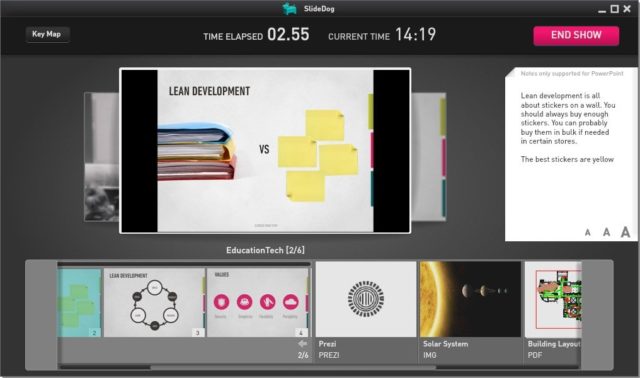 Let's get a bit more meta with SlideDog.
If you don't want to give up PowerPoint for some reason (why?! who are you? have you not been reading about all these other awesome alternatives?!), you can still use SlideDog in conjunction with PowerPoint to make things run a bit more smoothly.
SlideDog is a multimedia lover's best friend and is known for its ease of use when incorporating PowerPoint files, Prezi files, video files, PDFs, and plenty of other multimedia types into one nice and easy slideshow.
Pricing: Free or starting at $8.33/month for more features.
13. Slidely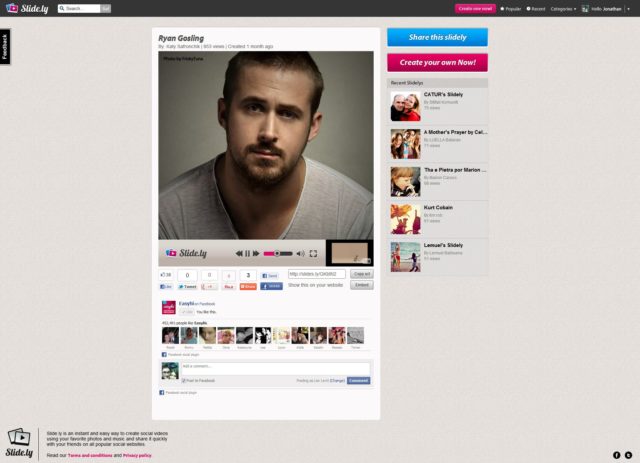 Here's a super fun one for all my art friends out there! It's less for business and educational purposes and more for sharing photos and videos with loved ones in a visually stunning way.
But you can totally use it for business, too. How about—instead of cramming all those photos from the last company 5k into a PowerPoint—using Slidely to combine a curated collection of photos with some music and visual effects? All hands meetings just got a lot more fun.
Pricing: It's free! Businesses can benefit from their Promo library service, great for finding stock content to use in marketing videos. Here's more info on Promo pricing.
14. Slides
What doesn't Slides do? Not much. Like their Features page says, it's got a ton of functionality but manages to do it without bogging you down. Easy to use on and offline, its only drawback might be that its limited template library mean it's not 100% customizable. But the templates they do have look pretty great to me.
Pricing: There's a free option; there's also Lite, Pro, and Team plans at $5, $10, and $20 per month, respectively.
15. Sway
You didn't think we'd poo poo all over Microsoft without giving them a chance to redeem themselves, did you?!
I was pleasantly surprised to find that Microsoft has waken up to the "death by PowerPoint" phenomenon and has answered beautifully. Meet Microsoft Sway. It basically does everything PowerPoint does but just…way, way, WAY better. Honestly, I'm just downright impressed.
Pricing: It's free!
16. Visme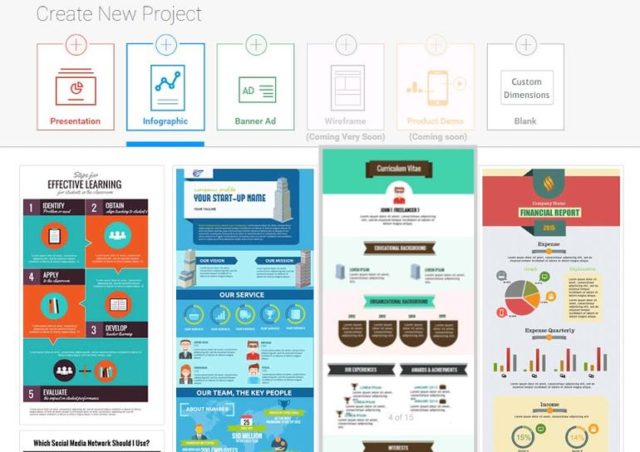 Have you ever seen someone using a PowerPoint presentation for something that'd do much better in a different format? You watch a PowerPoint full of sales reports with lines of numbers and cringe and just want to help the poor soul who thought a set of slides was the most engaging way to present this information.
Have no fear. Visme is here. It's simply beautiful—and not just for slideshows. Open your mind to infographics, data visualizations, and visually stunning reports as fresh ways to present information to your audience.
Pricing: The Basic plan is free! Standard plan: $10/month; Complete plan: $19/month; Team plan: $57/month for 3 users.
17. Zoho Show
Because of Zoho Show's precise importing and exporting functionality, it's safe to use Zoho Show when you're editing from (or will be exporting to) a PowerPoint file. So your PowerPoint-allegiant colleagues (are there actually people like this?) can't complain.
It's a pretty solid PowerPoint alternative with all the features you'd expect: cloud-based, offline presentation mode, and easy sharing and collaboration. Already use the rest of the Zoho Suite? Then Zoho Show is a no-brainer for you.
Pricing: They've got a free option which allows for up to 25 users! For everything you get, it's got one of the best free plan options we've seen so far. Upgrade to Standard for $5/user/month or Premium for $8/user/month.
Slideshows CAN Be Fun
Believe it or not, they actually don't have to be soul-sucking.
And we don't want to give the wrong impression that we just hate Microsoft, because that's not true! When PowerPoint first came out in 1987, Ronald Reagan was president. Gas was 89 cents a gallon. The Simpsons had just debuted its first season. It was a different time back then.
PowerPoint isn't this big, evil thing, but we do have to admit it is outdated. The fact it's stuck around this long is—seriously, nothing but respect here—truly remarkable.
It's time. Which tool will you use for the next few (maybe even 30!) years?