Why you need a Sharepoint Alternative
Sharepoint is a widely used tool mainly due to it being the first on the scene. Companies use it from sharing documents to managing projects. It was one of the first of its kind at the time of its creation. However, many changes in the playing field mean it may not be your best option anymore…so enter a list of Sharepoint alternatives.
Today you will find many alternatives to Sharepoint and they're all worth considering depending on your use. Sharepoint combines many project management and document management tools, but these vast systems aren't applicable to all businesses. If you're not going to use all the features, why pay for it?
Many Sharepoint alternatives are more appropriate for use in smaller, unique setups. Some even offer free options. More streamlined applications with user-friendly interfaces may be what you're looking for. Let's look at a few.
Ranking the Best Sharepoint Alternatives for Project Management
As of April 1, 2022, Workzone is ranked as the #1 Sharepoint Alternative in all ranking categories: Overall, Functionality, Ease of Use, Value for Money, and Customer Support by user reviews at Capterra, Software Advice, and GetApp.
About the #1 Ranked Sharepoint Alternative: Workzone
Better visibility to your team's work
Because Sharepoint wasn't designed for project management, it is a bit clunky at managing projects.
Only Workzone lets users see all their projects in one glance on its Project Dashboard.
Expert project managers by your side
Despite being around for a long time, Sharepoint offers limited personalized onboarding and support.
Workzone provides unlimited support for every customer. No other software on the market offers such an extensive onboarding and training process included with their subscription
Learn more
Everything you need to manage your projects
Sharepoint lacks the most critical tools most teams need to be successful.
Perfected over 20 years, Workzone combines ease of use with robust functionality. Giving you access to advanced features that help you manage projects more successfully.
View the product tour
Top 10 Sharepoint Alternatives
Why would you want a list of Sharepoint Alternatives?
You've grown to need a dedicated project management solution to manage projects
You and your team find it difficult to associate documents and projects — reducing usage and adoption
Sharepoint Pros
If you're looking to use Sharepoint as designed, it's great as a company intranet, storing documents, team communication, as a client-facing extranet, a website builder, and various business intelligence uses
Look at the versatility in the above bullet point!
Lives within the Microsoft ecosystem, so if you're already in it, you have access
Sharepoint Cons
Sharepoint lacks focus. While its great for versatility, a team's deeper needs for project management requires a dedicated project management software
Modules. So. Many. Modules.
Weeks of implementation and training…and that's just to setup the software. Good luck getting 1-1 support.
#1 Sharepoint Alternative Review: Workzone
"Workzone helps keep my head on my shoulders. I don't know what I would do without Workzone. It's great for keeping organized, gives me a full list of all my to-do's for the week, and can easily check something a task complete."
21 Best Sharepoint Alternatives
Workzone is used by many different organizations because its structure can be customized to accommodate them all. The Workzone system incorporates excellent training and support. This means teams who use this application will draw all of its benefits, such as:
Comment features
Task sharing
Work is documented as it's done
Explore Workzone Plans and Pricing
2. Google Drive
A list of Sharepoint alternatives needs Google Drive. Google's Drive suite seldom disappoints. The winning factor about Google Drive is its accessibility and pricing. Google Drive allows individuals and companies to store any type of document on an online storage facility. You can access them from any other device as long as you remember your password. This means your work or entertainment can now be wherever you are.
Pricing: You can use this application for free and use up to 15GB. If you or your company need more space, simply upgrade to a different package:
100GB for $1.99/month
1TB for $9.99/month
10TB for $9.99/month
Box for Business has garnered some international recognition. They help teams function by giving a better option than sending files via email. Different files can be stored in the Box cloud such as:
Features such as password protection afford users security which is necessary in any workplace.
Pricing: You can enjoy a 2-week free trial and judge for yourself. This application has unique plans for personal use or business. Your business can start benefiting from only $6/month.
4. Confluence
Atlassian brings you this excellent document management platform. Your team can work together more dynamically, even if they're not in the same place. Confluence works for many types of businesses, because it supports the creation, sharing and editing of different types of information:
Notes
Images
Project plans
Multimedia attachments
Inline feedback
Pricing: The system is loaded with templates that have been tried and tested, so your team can simply build on that foundation. Try it for free at first if you want. Packages start from $10/month for up to 10 users.
5. Intranet Connections
Intranet Connections focuses on creating a practical online, digital workplace. Apart from file sharing, the software helps companies do many tasks in a modern, dynamic way, such as:
Online induction training
Workflows and approvals
Employee communication tools that enable them to converse without moving outside your intranet and portal
The system can accommodate any number of employees and the cost is determined by how large your team is.
6. Igloo
Igloo's focus is on helping teams work faster and achieve more. Your company can store files online, so role players can find information, no matter where they are. Your team will also benefit from these features that come standard:
Calendars
Tasks
Team directory
Information such as company policies and procedures
Pricing: Igloo's prices offer an appropriate option for most companies:
Basic: $8/month: for small businesses
Professional: $12/month
Enterprise: Request a quote
7. Alfresco
Except for offering storage to its clients, Alfresco offers quality training. When everyone in your team knows how to use the tools at their disposal, your company will work more effectively.
This company is focused on giving excellent customer support and customized services. This is why they don't offer standard packages, but rather want you to inform them of your needs. This enables them to supply a tailor-made package to you.
8. Samepage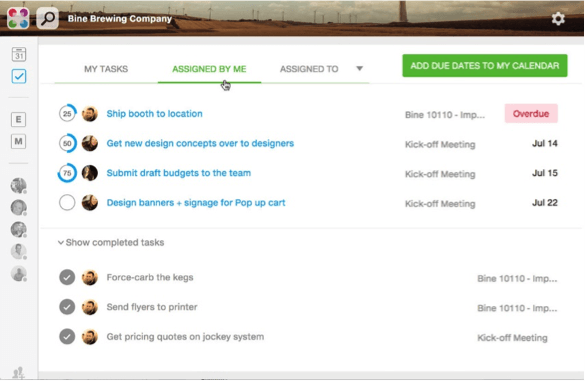 Samepage helps companies save time by combining the benefits of many applications. This means your employees only have to use one platform. Other performance apps you already use can be incorporated, so you always have access to all relevant information you already have stored somewhere.
Samepage can be customized to work for any size company. Files and information can be accessed via many devices, as it's iOS, Android, Mac and Windows friendly.
Pick from these options:
Free package allows 1GB storage for up to 10 teams
Pro package allows 1TB storage, unlimited teams for $7/member/month
9. Huddle
Huddle has excellent security safeguards and certification to prove it. Their data protection systems are compliant with US standards, so even government and health organizations can store information on Huddle. You have control over who of your team has access and editing privileges. Team members can view stored files from almost any mobile device, so they can reference information at any given time.
Pricing: Huddle has four packages to pick from, starting from $20/month. This already allows a team of 15 to share files and work together on one platform.
10. Liferay Social Office
Your team's entire day can be managed through the Liferay Social Office platform:
Documents can be shared and Liferay incorporates Google Docs & Sharepoint. This makes it practical if you're already using a platform and want to eventually transition to Liferay
Calendars
Contact information
Online discussions between colleagues
11. Nuxeo
Nuxeo is geared to help companies function with all the benefits modern technology brings. You're not limited to storing text files on the Nuxeo storage facility. Almost any type of file, including pictures and videos, are kept safe and easily shared. Nuxeo's MongoDB data storage back end allows for huge files to be stored safely. Along with this you can enjoy:
Tasks
Workflows
Notifications
Your team can access these from any device. Nuxeo understands that individuals prefer certain applications they already use. This is why platforms such as Dropbox can be accessed via Nuxeo.
12. Jostle.me
Teams work well together when they're in a comfortable environment. Jostle.me helps teams create this environment online. Apart from sharing information and documents, teams can engage in more dynamic communication:
Company news can easily be shared
You can even share videos
Photo albums can be created to inspire employees
Instead of long emails about documents, discussions can be triggered so solutions are reached faster
Pricing: Jostle.me is easy to integrate into your team's current dynamic and very easy to use. Permission and security features are built in. You can start using it for as little as $5.95/employee/month.
13. Wix
Wix might be an odd one for a list of Sharepoint alternatives but it makes the list because it focuses on the web development space and the document storage you require. You can host information and documents on a Wix site. A team can even collaborate on building it. It's the perfect platform to place information, instead of keeping it on boring documents on your computer.
All team members can log in and add information. This includes graphics and videos. It can also be accessed from any device. It's the perfect answer for creative teams.
Wix sites can be used for free, or purchase a package:
Connect domains from $4/month
eCommerce sites from $15/month
14. WordPress
Similar to Wix above, you may be surprised to find a website creation tool on this list of Sharepoint alternatives. However, WordPress' easy to use interface, makes it practical for sharing information. This includes data, pictures and videos. All of the members on a team can gain access to a site from any device. Since you can determine the privacy settings of a WordPress site, your team can use it as their personal website.
Pricing: You can use this platform for free, or use these options:
For more customized add-ons you may need a package at $125/year.
WordPress also offers more security features through Sucuri at around $200/year.
15. Process Street
Process Street has such an innovative way of helping its users. It offers you templates so you can create quality documents that's vital to the company's functioning. This includes:
Welcome packages
Client emails
Agendas
It helps you track progress of the teams' responsibilities. You can also link to other applications such as Dropbox. Therefore you know any type of file can instantly be shared with everyone on the team, through one simple platform.
Pricing: Try it out for free or use one of these packages:
Business: $12.50/member/month
Business Pro: $25/member/month
Customized packages for optimum benefits
16. Redbooth
Redbooth covers most aspects of what a team needs to function dynamically. They succeed in offering it in an easy to use package. All employees can take part in the online processes. Redbooth makes use of visual tools, so team members can witness progress and be motivated.
Files can easily be shared across this platform and this includes:
Pricing: This exceptional tool can be used by up to 10 people for free, or pick a package:
Pro: $5/user/month
Business: $15/user/month
17. ONLYOFFICE
ONLYOFFICE will let you doubt the necessity of a physical office by offering hosting services with many additional features. Hosting companies are experts at securing online information. Because they're knowledgeable about hosting, they can help you keep your company's documents safe. They have expert encryption procedures and portal access features. This means you can store valuable information on this document management cloud without fearing access by hackers or other third parties.
ONLYOFFICE offers data backup services, but you can also use:
The platform's calendar
An online document editor
CRM system
Pricing: Try it out on ONLYOFFICE's 30 day free trial period, or acquire a package where the first five users are always for free:
1 Month: $75 + $5/user/month
1 Year: $360 + $2/user/month
3 Year: $540 + $1/user/month
18. Podio
Podio's list of uses and features are almost endless. While it's geared to help teams function better, its storage feature is truly impressive:
You have access to unlimited storage space.
Most other file sharing applications can be integrated with Podio
You can store and attach almost any type of document, even design files
The user friendly layout makes it easy to use.
Podio offers many payment options, so companies can pick the most practical option:
Month to month, starting from $9/month for the Basic plan
Yearly subscription, starting from $7.20/month
19. Papertrail
Papertrail is a virtual version of a document storage facility.
Firstly it allows you to store electronic documents safely. Papertrail's setup affords administrators power to manage which users can access documents.
Among its many features, Papertrail has many capturing solutions. This is the dynamic answer to minimize the amount of documents you keep in printed form.
The platform has bulk and automated capturing features. You can create text searchable PDF versions of documents, so you can easily find relevant documents through simple searches. All the documents you always fear will get lost, can now be digitized and you can access it from anywhere.
Papertrail loves offering customized service, so contact them for a quote according to your requirements.
20. Dokmee
Dokmee offers various products, each focused on a specific type of company, or even individuals. The fact that platforms cater for different requirements is what makes Sharepoint alternatives an excellent notion.
You can save and share virtually any type of document on Dokmee. You can add notes or make edits to most of them on the platform, so other users can see your input.
Dokmee ensures a secure platform through its encryption processes. It also tracks activity on the platform, so you always know who accessed which files.
Pricing: Dokmee offers automated data capturing options in some of its advanced packages. Pricing includes:
Software packages starting from $159
Cloud storage space starting from $29/month for 10GB
21. Webmerge
WebMerge offers software to assist companies in communicating better. This includes the creation of content and sending it to contacts such as a client base or partners. You can use WebMerge's templates, or upload one you made in an Office program. WebMerge can easily integrate with other document managing systems such as Google Drive.
Pricing: Costs are determined by the amount of documents you generate per month. Pricing starts at $29/month.
Conclusion
If you're needing to move away from Sharepoint because of cost or ease of use, you can see there's a range of platforms and applications available to handle your needs. The one that's right for you you will depend on the industry you're in, the size of your company and your way of operating. There are definitely a few Sharepoint alternatives that's worth trying out.